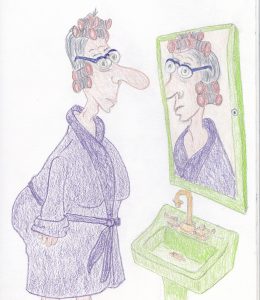 Only into a mirror need I look
To view a face that's wrinkled . . .
and a nose that's crooked.
Who is this stranger?
I dare not ask.
Could it be someone I know from the past?
Her hair all dingy and gray
Reveals it's seen a better day.
This aged and weary soul it seems – so forlorn.
A generation ago would she have been born?
Etched above her brow . . .
Are marks that have aged her somehow.
Many would be the stories . . .
Of her life in all its glory.
Also would be the times, if confessed,
That were less than the best.
How is it she seems so familiar to me?
This feeble one with eyes so weak;
Her specs resting upon her pale cheeks.
I'm sure we've been acquainted.
Let me just check – I can't place her yet. Selah
****
For now, I have but a glimpse of her faith and hope
That helps her daily cope;
And that one day she shall see
Her weary body glorified . . .
For all eternity!