Welcome To My Garden
Most of my inspirations begin with thoughts and encounters with the Lord when I least expect them; usually when I am meditating on or admiring God's nature and creation.  He must love to reveal His wonders to His children as the Father of the Universe.  Over the years, I have come to have a greater appreciation of God's wonderful creation and majesty through His revelations.
I enjoy expressing in words His magnificent glory.  But there are truly no verbal means adequate to express His awesomeness in the human language.  So, I share with you, the reader, to the best of my ability, intimate times with Him in the 'secret places' of my heart.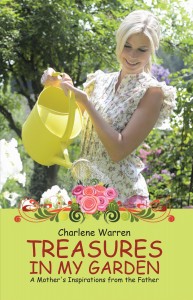 Treasures In My Garden
This is a collection of inspirational writings by the author over the last 12-15 years.  Many of the poems and essays were divinely inspired while meditating on the Lord.
With keen insight, the author portrays the divine character qualities of those most dear to her.  Intertwined in her thought-provoking work is seen a love for her Heavenly Father, family, and nature/creation.
The author shares of her journey into a greater awareness and appreciation for God's magnificent creation.  Becoming fond of observing God's nature and the growth of plant-life, she produces some of her literary writings from a gardening aspect.
The book is lighthearted at times; yet it suggests and encourages deeper spiritual growth for the individual.
Upcoming Events
There are no upcoming events at this time.